Good news for the dog owners who want their pups to have an extraordinarily shiny coat! We'll review the best salmon dog food in the market to help you pick the most suitable option for your canine. Salmon dog foods are NUTRITION BOMBS.
They will not only keep your dog healthy but will add to the beauty of their coat. We know that grooming your dog very often and maintaining its coat takes a lot of time. Some dogs even hate taking supplements. Hence, you can't even add vitamin E supplements to your dog's routine to manage its immune system and beautify its skin and coat.
Moreover, you are also worried about feeding your dog super healthy food.
How about hitting both goals – of keeping your dog healthy and making their coat glossy – with one box of salmon dog food? That'd be great, right?
We've examined different salmon dog food options and narrowed them down to the finest pick, including grain-inclusive and grain-free salmon dog foods to fulfill your pup's nutritional needs. You'll find detailed reviews on each below with the pros and cons of each product.
Scroll below to find the healthiest salmon dog food that many dog owners rely on and feed your dog with the yum treat!
Here are the quick links to products.
Top 7 Dog Foods with Salmon in 2022
Salmon is a go-to food for dogs to fulfill their protein needs. Below we have enlisted the top 7 salmon dog food brands. These salmon dog food brands will rule the bowls and tummies of many doggies in 2022.
1. Canidae PURE Limited Ingredient Adult Dry Dog Food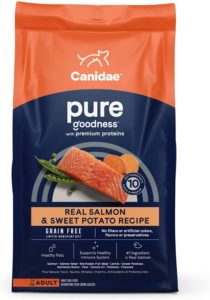 Want to feed your dog with a bowl full of goodness? Canidae Salmon and Sweet Potato Dog Food with limited ingredients is the top choice of many pup parents for this purpose. You can, of course, also provide your pup with this salmon dog food.
Why does Canidae Salmon dry food mark its position on the top? Well, there are many reasons for it.
First and foremost, it contains salmon as the first ingredient, combined with other whole ingredients like; menhaden fish meal, sweet potato, and peas.
You'll find 10 or fewer easy-to-recognize ingredients in this dog food bag. The good news is all these ingredients are good for even dogs with food sensitivities.
How does Canidae PURE stand out?
Canidae PURE stands out from other products in the list because they focus on two things: Pets and the planet.
And, they are making their product different by packing a punch of premium protein in their food bag that wholly contains regeneratively farmed ingredients.
Pros
Grain-free (suitable for dogs with food sensitivities)
It contains 10 or fewer Limited Ingredients with a unique recipe
Formulated with antioxidants or probiotics to promote a good digestive and immune system
Nutritiously rich
Complete and balanced diet for adult dogs
Free from additives and fillers
Cons
Final Verdict:
Buyers who introduced Canidae PURE in their dog's life were happy with the nutritious value their dog received. They also noticed a positive impact on their pet's health after their dog switched to Canidae PURE.
So, we can confidently say it's worth filling your dog's bowl with. A big YES!
2. Merrick GF Dog Food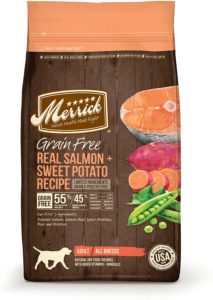 Great taste, quality, and nutrition are the three basic qualities every dog owner is looking for in their pet's food. Right?
Finding all the qualities in one food bag seems next to impossible.
But, here is good news; you'll find all these characteristics in Merrick Grain Free Salmon Dog Food. Merrick has deboned fresh salmon as the first ingredient paired with other whole-food ingredients. Blueberries, sweet potatoes, and peas, for instance.
Moreover, this dog food is complete and a balanced diet that your dog can eat to grow into a muscular and healthy pup.
How does Merrick stand out?
Merrick Salmon Grain Free Dog Food is the best dog food for ALL dog breeds and their ALL life stages. Furthermore, this dog food is jam-packed with leading levels of nutrition. For example, quality protein, omega 3, omega 6 fatty acids, and iron amino acid complex that ensure your dog has a shiny and healthy-looking coat.
Pros
Grain-Free
Good for all dog breeds and sizes
Maintains hip and joint functions with Chondroitin and Glucosamine
Help to maintain a healthy weight
Contains zero preservatives
Cons
Has a strong smell of fish
Final Verdict
When the grain-free greatness is enclosed into a tiny box, it comes out as the Merrick GF Dog Food. Your dog will lick the bowl clean in no time because it tastes so good. How cool is it to give your dog good health with the food it will enjoy munching?
3. Blue Buffalo Wilderness High Protein Dry Dog Food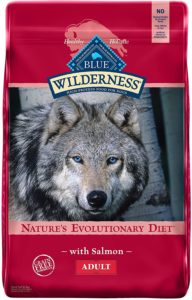 Dog's are meat lovers by nature and for a good reason. Their bodies can process meat much easier as compared to other foods. Therefore, a high-meat diet is easier for dogs to digest and helps them absorb as many nutrients as possible.
Blue Buffalo Salmon Dog Food is a specially crafted recipe to satisfy your dog's natural love for meat.
The Blue Buffalo Dog Food has all the other healthy ingredients besides the meat. Such as carbohydrates, including peas and sweet potatoes. These ingredients support an active lifestyle and promote healthy skin and coats. So when it's healthy ingredients, take care of your dog's protein needs, skin, coat, and joints. How can it leave the bones and teeth behind?
This salmon dog food contains calcium and phosphorus to strengthen your doggie's teeth and bones.
How does Blue Buffalo stand out?
Blue Buffalo stands out for its all-natural and quality ingredients. Their recipe always starts with protein-rich real meat as the first ingredient. Moreover, this food bag doesn't contain a single ingredient that can pose a risk to your dog's health.
Pros
Contains no chicken/poultry
Carbohydrates and proteins are balanced in the serving
Helps dogs live an active lifestyle
Available with and without wholesome grains
Contains omega 3 and 6 fatty acids
Cons
Some buyers reported their pet to have loose stool after switching to Blue Buffalo.
Final Verdict
Blue Buffalo Salmon Dog food is a great choice if you are concerned about the health and well-being of your pet. By feeding your dog with Blue Buffalo salmon dog food, you can keep their good health, and the desire to munch meat go hand in hand.
4. Wellness Simple Natural Limited Ingredient Dry Dog Food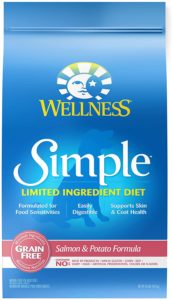 Wellness Simple is a limited ingredient salmon and potatoes dog food. Moreover, it's an optimal source of omega fatty acids, antioxidants, glucosamine, and probiotics for maintaining the overall health of your doggo.
Flaxseed, potatoes, and peas in the Wellness Simple salmon dog food provide powerful antioxidants and fatty acids for a coat that sparkles.
Switch to Wellness Simple Natural for giving your dog well-being for a lifetime. Oh, does your dog also suffer from gastrointestinal problems? This salmon dog food will also help keep the flatulence issue at bay!
How does Wellness Simple stand out?
Wellness Simple is a made in USA salmon dog food product. Every ingredient found in the food bag is globally sourced. In a state-of-the-art facility, they craft their recipes with products chosen for their nutritional value.
Pros
Recipe crafted with a single source protein
Support a healthy coat and skin
Strengthen the immune system
Available in "Grain" and "Grain-Free" options
Easily digestible
Gluten-Free
Cons
Some buyers reported their picky eater refused to eat Wellness Simple after some time.
Final Verdict
If your dog is poultry allergic but highly food motivated, it's hard to find quality dog food. But Blue Buffalo solves this problem for you. Some dog owners complained that they wouldn't eat the Blue Buffalo Salmon Dog Food. So after some time, they switched their dog to Blue Buffalo.
You can tackle this problem by properly introducing the dog food and preparing your dog's stomach to accept the high nutritional value.
5. Pure Balance Grain-Free Formula Salmon & Pea Recipe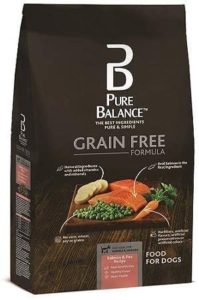 Pure Balance Salmon And Pea Dog Food has a grain-free formula to keep your dog's digestive system in good order.
Pure Balance Dog Food Salmon is a favorite with dogs and their owners. It is formulated with a simple recipe that mainly includes salmon and pea. Any dog owner looking for affordable, great quality, and naturally balanced food for their doggo, can trust this salmon and pea dog food. Based on the rave reviews by the buyers, we can say you won't be disappointed.
How does Pure Balance Dog Food Salmon Stand Out?
Pure Balance Salmon And Pea Dog Food stands out for the amazing size of the kibble. Whether you've pups or an adult dog, your dog can consume this food with great ease. The kibble is just the size of a pea, but it's flat. So, your doggie (even if he's a little guy yet) can chew it without getting choked.
Still, want to go on the safe side? Put a little water in it and let it stay for a while. Soon it will get softer. Easy, right?
Pros
Has no artificial colors
No corn, no wheat, no soy or grains
Less expensive
Improves the digestive system
Suitable for dogs of all ages
Cons
Some buyers reported their dog getting sick after taking this salmon dry dog food.
Final Verdict
Pure Balance Salmon Dog Food justifies its price with the higher quality and just-right blend of ingredients. This salmon and pea recipe may be perfect for your dog if he is allergic to chicken. Give your dog something great to eat without compromising on their health.
6. Purina ONE SmartBlend True Instinct Natural Adult Dry Dog Food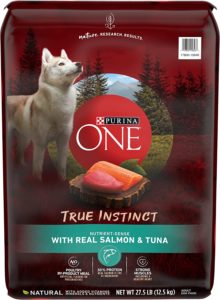 Purina Salmon Dog Food is made from real salmon.  This dry dog food is specially made to satisfy the dog's instinct of eating meat. Thus, you need to feed your dog food containing meaty ingredients.
In Purina One, REAL meat comes first in their recipe, giving them the energy needed to fulfill their other instincts. Such as jumping, running, and playing.
Many buyers have marked Purina One as picky eaters approved because it has such a great taste that your doggie can't resist. Moreover, this salmon dry dog food has far more affordable prices than other dog brands, so it's the best pick for budget-minded dog owners.
How does Purina stand out?
Purina Salmon Dog Food stands out because every ingredient in this food bag is included on purpose. Their recipe is nutritiously dense and has 0% fillers. Moreover, Purina gives you a choice to fill your dog with nutrition with the flavor and texture they'd enjoy the most.
Pros
Nourishes your dog's whole body
No fillers and No Poultry by-product meals
Available in different flavors and textures
Reasonably priced
Easy-to-digest
Cons
Your dog might experience gastric problems after consuming Purina ONE.
Final Verdict
Purina salmon dog food is formulated to meet all your dog's energy needs. But as mentioned earlier, some dogs experienced flatulence with this dog food. After all, not every dog food suits the individual needs of your doggie. So talk to your vet first and introduce Purina properly in your dog's life. Hence, you'll more likely be able to save your dog from gastric issues.
7. Kirkland Salmon Meal & Sweet Potato Dog Food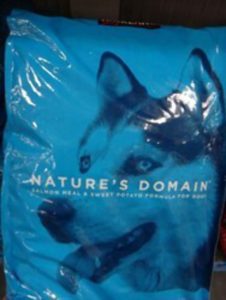 Kirkland Salmon Dog Food has an average level of proteins, carbs, and fats than any other dry food. However, when it comes to protein levels, we can say Kirkland dog food contains a moderate amount of animal protein.
However, all the ingredients in this food bag are certainly high quality. For example, salmon is the first ingredient in the salmon meal and sweet potato dog food. It's delicious and provides the required amount of fatty acids for a shiny coat and healthier skin.
The other main ingredient is sweet potato which enhances the taste and complements the nutritional value with the added vitamins and minerals.
How does Kirkland stand out?
The Kirkland salmon dog food makes itself special because it's suitable for dogs of all ages and sizes. However, if you want a specialized formula per your dog's special needs, that's up to you. But Kirkland have tried their best to keep you out from the hassle of finding a new dog food formula every time your doggie grows a little older.
Pros
Contains real ingredients only
Healthy and nutritious
Contains no preservatives
You'll see improvements in your dog's poop soon
Cons
Final Verdict
Kirkland salmon dog food is a good quality product. Many users are happy with this particular salmon dog food formula saying their dog loved it. So get ready to buy a few Kirkland dog foods in advance because your doggie's meal will be gone in minutes, and they'll be wagging tails to get some more of it.
Buyer's Guide: How to Pick the Best Salmon Dog Food?
Dog owners are often more concerned about their dog's health than their own. So, no dog parent is ever ready to experiment with any new dog food formula on their fur baby. But, because the new dog food doesn't agree with the system of their doggo, it can cause serious health issues.
To ensure that your dog's coat remains glossy and beautiful, you'll need to choose a JUST-RIGHT salmon dog food.
Here are some tips for picking the best salmon-based dog food!
Keep an Eye on the Potential Protein Source(s)
First thing first, you need to check: What are the major protein sources in the salmon dog food you're choosing for your pup?
Some salmon dog food might contain salmon only as a protein source. In contrast, others take salmon as the primary source of protein and mix up other meat, like chicken, to enhance the nutritional value of their product.
If you select a mixed meat salmon dog food for your allergies-free dog, there's nothing wrong with it. But, for a dog that's prone to different allergies, go for "salmon-only" dog food.
Grain-Free or Grain-Inclusive
You might be impressed with the hype of grain-free dog foods. But, know that being grain-free NEVER makes a dog food great (be it salmon dog food or any other).
Salmon dog food formulas, however, are pretty beneficial for your dog's digestive system and can be great for dogs who have food allergies.
Look at the First Two Ingredients (Mainly) But Don't Forget Additional Ingredients As Well!
When buying salmon dog food, run your eyeballs through its ingredient list. Of course, the first ingredient in the food box has to be meat. The dog food brands will mostly list the second (and often third ingredient) to be an additional meat source.
For example, you might see a deboned salmon as the first ingredient followed by a salmon meal or other meat.
Look at the bonus ingredients as well. Like:
Probiotics – For better digestion
Glucosamine – To promote healthy joints
Salmon oil – For EXTRA omega 3 fatty acids
The inclusion of these additional ingredients will depend on the specific nutritional needs of your canine.
FAQs:
Is Salmon Dog Food Good for Dogs?
The quick answer is YES! The omega-3 fatty acids in salmon support your dog's digestive system, reinforce their immune system, and bless them with healthy skin and a shinier coat.
Even better? Salmon dog food can be a good alternative if your dog is allergic to more common protein sources (chicken, for instance).
What is the best Salmon Dog Food?
Canidae Pure is the best salmon dog food because it contains a high amount of protein and other ingredients that work together to support your dog's health.
Is Salmon and Potato good for dogs?
Of course! There are multiple health benefits of eating salmon and potatoes for dogs. First, salmon is full of all beneficial proteins and fats. Hence, it can be a great addition to your canine's regular diet. On the other hand, potatoes, too, brim with multiple essential minerals and vitamins that are good for pups.
What is the best Salmon and Sweet Potato Dog Food?
Canidae Pure is the best salmon and sweet potato dog food. Including ingredients like salmon, sweet potato, and peas in your dog's diet can greatly boost his cognitive abilities and IQ.
Does Salmon Dog Food Have Mercury?
Sadly yes! Where salmon is a great source of unconventional protein and omega fatty acids, it can also be a great source of mercury. According to a study, mercury concentrations were detected in 3 out of 24 fish-based dog foods. However, the concentrations detected are unlikely to pose a risk to a healthy adult dog.
Moreover, currently, there are NO regulatory guidelines for mercury concentrations in pet food.
Our Top Pick – The Winner in the List of Salmon Dog Foods!
All the dog foods listed above are the best foods based on salmon that your dog will ever consume. But, it's time to announce the winning Salmon Dog Food!
It's none other than Canidae PureLimited Ingredients Adult Dog Food. This salmon dog food is nutritiously rich and has won the hearts of many dog parents who were worried about choosing a complete diet for their picky eaters.
The reason Canidae Pure is our top pick amongst all salmon dog foods are:
First, it has salmon as the MAIN protein source.
It's high in Omega 3 and 6 fatty acids.
Finally, it contains probiotics to support effortless digestion.
Canidae Pure is tough on your pet's allergies and skin problems but gentle on their tummy. Yes, the price tag of this food bag is a tad bit high but, believe it or not, it's worth spending some more $$$$