While Pitbulls were traditionally fighting dogs. Now they are mostly gentle and stay-at-home pets. As a result, you may want to create a good feeding plan for your large dog. Pitbulls also have special dietary requirements due to their enormous size and weight. So, as a responsible owner, you should be interested in knowing the best dog food for Pitbulls.
Thus, to ensure that your Pitbulls' diet and health needs are met, we researched the best brands available. Our recommendations are based on the dog's maturity and lifestyle; therefore, getting to know your dog better is the first step.
8 Best Dog Food for Pitbulls to Build Muscle
We've evaluated various dog food for Pitbulls to choose the best products when writing this article. Further down, you'll find reviews on each food product with the pros and cons. If you know your dog's needs, follow these links directly to products.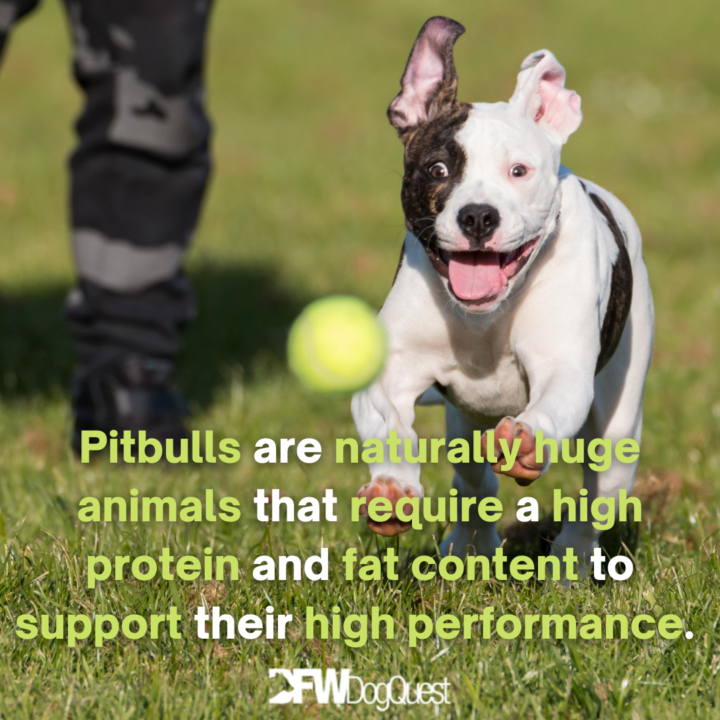 Pitbulls have different nutritional needs compared to other breeds. They are massive, energetic, and active, and Pitbulls need highly energetic food to perform. Here are the recommended brands for your Pitbull.
1. Blue Buffalo Wilderness High Protein – Natural Adult Dry Dog Food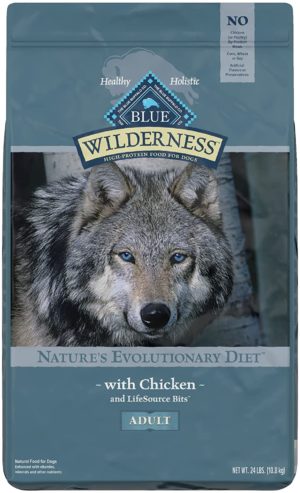 This brand is a family recipe. When a family dog named Blue fell sick, they used this recipe to restore his health, and so the brand name became Blue.
The main ingredient is chicken meal, along with healthy fruits and vegetables. Many dog owners say that it is ideal for active dogs. However, the brand also provides an option for grains or without whole grains.
Since the food is made primarily of chicken meal, it has a high protein content to help build muscle. Additionally, it contains calcium and phosphorus, perfect for bigger dogs like Pitbulls. These dogs need strong skeletal muscles to facilitate their level of activeness. Moreover, these minerals promote strong, healthy bones and teeth.
The perfect balance of carbohydrates and proteins in this dog food for Pitbulls ensure your dog has the energy it needs.
Pros
It contains zero by-products
It has premium natural ingredients and antioxidants to improve your dog's health
Has no corn, wheat, or soy
It does not have artificial flavors and preservatives
Cons
It is quite pricey
Some dogs may experience digestive problems and diarrhea
2. Blue Buffalo Freedom Grillers Grain-Free Natural Adult Wet Dog Food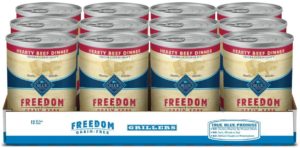 Pitbulls seem to enjoy eating this wet food treat that contains natural beef and carbohydrates to keep them energetic.
It is an excellent addition to dry food, but it can also be served on its own. Moreover, this product can be consumed as a snack between meals. Dogs allergic to chicken meal or turkey meal will enjoy this product since it does not contain any.
Each Blue product is made with natural ingredients and is infused with vitamins and minerals to promote growth.
Unlike many other brands that use wheat as a thickener for wet dog food, Blue does not use wheat. The product contains vegetables, including carrots and whole peas.
Pros
High-quality ingredients
It is tasty
It is a grain-free formula
It contains no artificial additives
Available as "loaves" and meaty grillers
It helps with your dog's hydration
Cons
Only suitable for adult dogs
It does not contain chicken meal or any of its by-products
3. Dogswell Happy Hips Grain-Free Lamb and Sweet Potato Recipe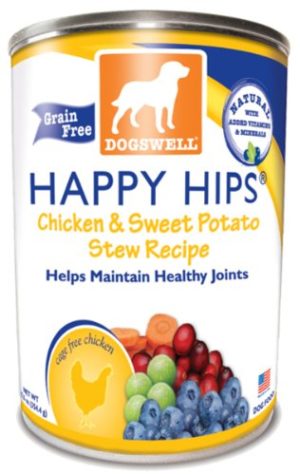 In making this product, Dogswell considered that Pitbulls adore doing laps. It contains high-quality proteins, fruits, and vegetables to promote hip and joint wellness. These vegetables and fruits are rich in antioxidants that will benefit your dog's health. However, the main ingredient is lamb meal.
This is a grain-free formula that contains no corn, soy, or wheat and no trace of artificial colors or additives. The formula is infused with minerals to help your Pitbull absorb nutrients better. This formula is ideal for all dog breeds; therefore, there is no need to get different foods if you have more than one breed in your house.
There are no traces of chicken meal or turkey meal in this recipe, and it is entirely organic. Furthermore, the vegetables are not visible. Therefore, you don't have to worry about upsetting your dog.
This dog food for Pitbulls uses high-quality products; the lamb is from New Zealand, while the beef is from the USA. This product is also ideal for dogs of all sizes, and it contains minerals for strong bone formation.
Pros
It is suitable for your dog's hydration
Uses high-quality ingredients
Quite affordable
It contains no artificial ingredients or additives
Cons
High carbohydrate content that may cause obesity
4. Taste of the Wild Dry Dog Food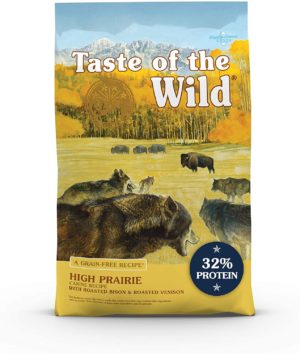 With Taste of the Wild, you get a grain-free formula with lamb meal or bison as the main ingredients. Hence, if your dog prefers a chicken meal, this might not be the best food to choose. Nevertheless, the product contains 32% protein, which is helpful for lean and strong muscle development.
Taste of the Wild provides nutrient-rich dry dog food for Pitbulls enriched with vitamins and minerals from fruits and other superfoods. In addition, the product is rich in omega fatty acids for smoother skin and coat.
It also contains probiotics and antioxidants for healthy digestion and strengthening your Pitbull's immune system. The product is ideal for adult Pitbulls or any other breed. The team also adds good bacteria specifically made for dogs to aid general wellbeing.
It is also important to note this is a family recipe made with only the highest quality ingredients. Furthermore, it is entirely organic with no traces of artificial additives.
Pros
Roasted bison and venison for unique taste
Contains no additives
Balanced diet
High protein and fat content
Low carbohydrate content helps you watch your dog's weight
Quite affordable
Cons
Limited plant-sourced nutrients
5. Bully Max High-Performance Super Premium Dog Food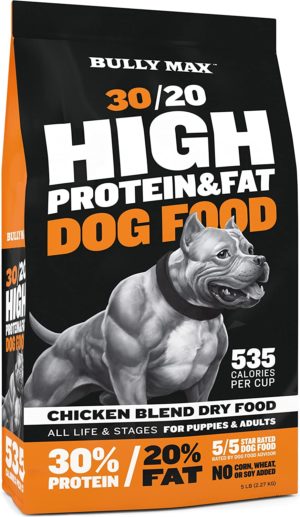 Reviews on the #1 dog food review site claim that Bully Max is the best dog food for Pitbulls. It has received a 5-star rating for its high-performance dog food.
Bully Max uses real meat as the main ingredient and is keen not to include plant-based nutrients. It is an excellent choice for chicken meal lovers. Moreover, the meat is slow-cooked to retain quality and potency. It also contains a very high level of calories, 535 calories in a cup. Using this product can cut the feeding times by up to 50%.
You can feed either Pitbull puppies of 4 months up to adult Pitbulls. Additionally, the product contains 30% protein and 20% omega fatty acids. It is a carefully crafted formula that makes the Pitbull increase strength, focus, and energy levels. Despite the absence of brown rice or grains, it contains a balanced fiber.
Bully Max is very keen on the quality it releases to its customers; therefore, all products undergo testing three times before leaving the manufacturing facility.
Pros
5-star rated performance Pitbull meal
Meat-based formula
Grain-free
High-calorie content
Uses natural ingredients
It contains chicken meal for enhanced protein
Cons
Expensive compared to other dry dog foods
Some dogs may experience food allergies
6. Royal Canin Breed Bulldog Adult Dry Dog Food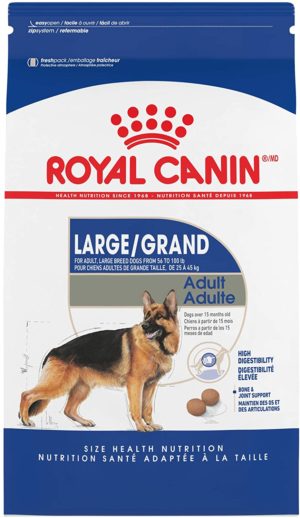 Designed with your wide-jawed friend in mind, this product contains easy digesting proteins, great fiber content, and healthy carbohydrates. There's a lot of chicken fat in this recipe, giving your dogs the necessary proteins. Moreover, dry foods help improve the digestive system by decreasing gas and improving stool quality.
In addition, the product is loaded with nutrients to help improve the coat and prevent skin folds from getting irritated. It also supports joint and bone development while still allowing you to watch your dog's weight.
This dry food is ideal for medium-sized to giant adult dogs. Thus, you can start feeding your Pitbull this formula after 12 months.
Royal Canin partners with veterinarians to develop breed-specific formulas to cater to its nutritional needs. Furthermore, they consider the pet's life stage, lifestyle, and health issues associated with that life stage before formulating the perfect dog food for Pitbulls.
As a result, this formula contains grains for healthy digestion and the food to last longer in their stomachs.
Pros
A breed-specific formula for Pitbulls and bulldogs
High protein and chicken fat content
Has grains for better gut health
Contains fiber
Contains EPA and DHA to support joint and bone growth
Cons
The bags are not of the best quality, and they tend to get damaged
7. Wellness Complete Health Dry Dog Food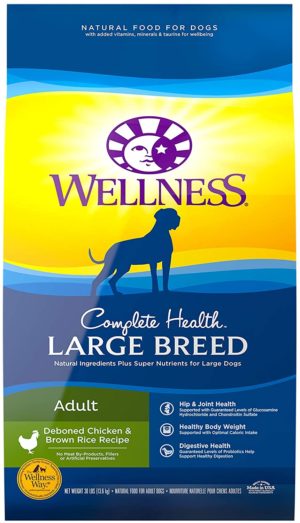 Chicken meal is the main ingredient in Wellness Natural Pet Food products. Consequently, it has a 26% protein content. It also contains vegetables such as spinach and blueberries for that balanced diet. The vegetables are also good antioxidants for a healthy immune system, and flaxseed helps maintain a healthy coat.
The product has high protein content infused with brown rice and flaxseed grains. It is formulated to help improve coat and skin, digestive system, teeth and bones, energy levels and strengthen the immune system.
Additionally, it contains probiotics and digestible fiber to help improve gut health.
There are no traces of artificial preservatives, fillers, or meat by-products in any of the brand's products. Additionally, the product is specifically made for large dogs such as Pitbulls. Thus, it is nutrient-rich and contains compounds such as glucosamine to help improve joint and bone development.
It is also manufactured in the USA, using ingredients from trusted sources from global supply chains.
You can start feeding your Pitbull this product once it achieves one year of age up to seven years old.
Pros
Uses natural ingredients
Brown rice provides high fiber content
No trace of artificial additives
Greta protein content
Has grain for calorie content
High protein content from the chicken fat
Has antioxidants, probiotics, and vitamins
Locally manufactured in the USA
Cons
The packaging tends to get damaged when shipping
8. Blue Buffalo Basics Limited Ingredient Diet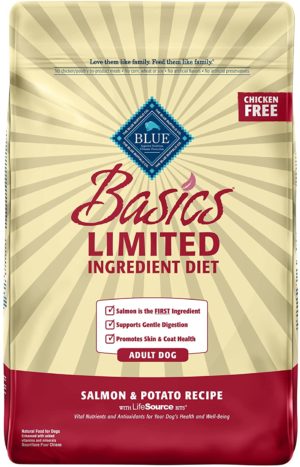 Blue Buffalo made this formula for adult large-size dog breeds. Therefore, the main ingredient is salmon meal, which is processed alongside potatoes, peas, brown rice, and pumpkins to ease digestion. Moreover, it is ideal if your Pitbull has a sensitive stomach.
Specifically, Blue does not add any turkey meal,  chicken meal, lamb, beef, dairy products, or eggs in this product. It doesn't contain soy, wheat, or corn either. The limited ingredients are to cater to dogs with allergy issues.
It is, however, infused with antioxidants, vitamins, and minerals for a robust immune system. Additionally, it contains omega 3 and 6 derived from fish oil for a smooth coat. This meal is an excellent alternative for dogs allergic to chicken fat. The brand only uses natural ingredients, and they do not also add artificial preservatives or flavors.
Pros
It contains no artificial flavors or preservatives
Has no soy, wheat, or corn
Contains no dairy or dairy by-products
One single source of protein
Fish oil from the salmon meal enhances your dog's coat
It contains antioxidants for improved health
Cons
The smell turns off some dogs
It does not have a chicken meal flavor
Factors to Consider When Buying Dog Food for Pitbulls
The number of dog food sellers in the market right now can overwhelm you, and you cannot rely on local adverts since they tell people what they want to hear. In addition to suggesting top-rated brands, we have also offered guidance on settling on one. Thus, consider the following when choosing a brand:
Brand Reputation
You only want the best products for your dog, but some companies may sell harmful or substandard products. Therefore, the safest way to know a brand is trustworthy is by looking at its customer base and their feedback about the brand. Reputable companies have built their brands by providing the best customer service and selling the highest quality products.
These long-established companies are also quite open about their practices. Therefore, you can review the source of ingredients and the production process to decide if a product suits you.
In addition, all dog food sellers are registered with the Association of American Feed Control Officials (AAFCO). The association also collaborates with the FDA to regulate the pet nutrition sector. As a result, dog food that bears the AAFCO seal is complete and balanced.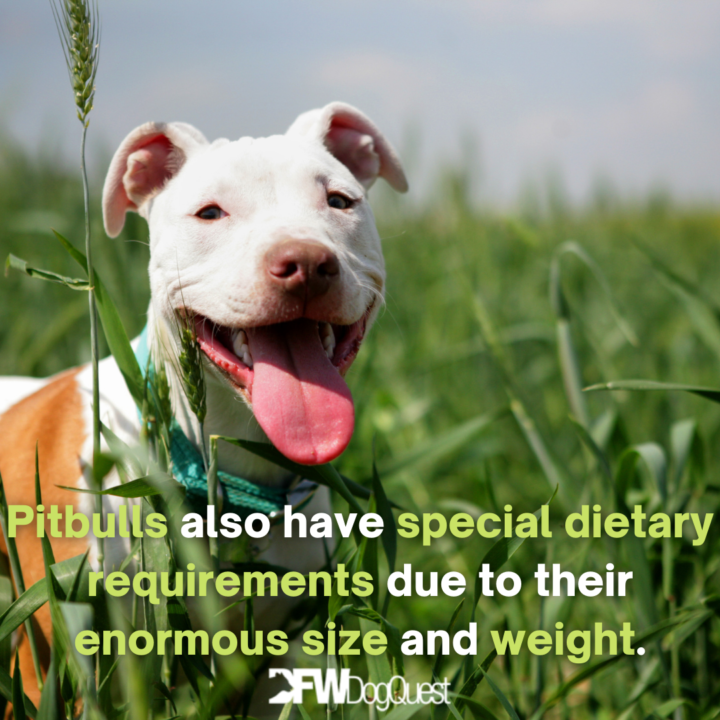 Lab Testing
Most big companies tend to run nutrition and feeding tests and share the results with the customers. Therefore, any formula's ingredient information and nutrient profile should be available for the customer to review. Moreover, most of these brands extensively explain their products, so a company with limited information should be a red flag.
Existence of Veterinarians or Dog Nutritionists
Many of the brands we've featured above are vetted by veterinarians and have products that meet the dog's nutritional needs. Likewise, companies with nutritionists and vets also assure you that they are high-quality products.
The professionals study what nutritional requirements dogs may have depending on their maturity level, breed, and health issues associated with the dog. Hence, the featured brands have gone out of their way to tailor foods for dogs at all stages. Dog owners of this generation couldn't be happier.
The Label
The label explains the contents of the product, and as such, it should not contain false information. Stay away from companies making claims that their dog food treats or prevents certain diseases because such products are likely fake and scams.
Companies that make foods that cure and prevent diseases in pets fall under therapeutic diet providers. If the company is not such, it is making false claims. Such foodstuffs are only available through a veterinarian or via prescription. Companies claiming to have infused medication for arthritis in their dog food sell their products more pricey. Still, you will not get value for your money.
Source of Ingredients
Ingredients determine the quality of the dog food for Pitbulls. Some companies may import ingredients from countries that have poor quality food standards, therefore, resulting in low-quality products as well. The USA has rigorous regulatory standards, and most ingredients from the USA are of great quality.
In addition, top-rated companies get their products from trustworthy and traceable global suppliers. If a particular product causes harm to a dog, the specific ingredients used can be traced back to the supplier. To be safe, only buy from companies that indicate the source of their ingredients.
Special Dietary Needs
Different breeds have different nutritional requirements. Consequently, smaller dogs may not need high carbohydrate content as compared to Pitbulls. It is therefore very important to buy breed-specific dog food. Most of these brands make food for small, medium, and large dogs.
A Pitbull's diet must have high protein content, carbohydrates, vitamins, and minerals for robust muscle growth. Omega 3 and 6 are also necessary for joint health since Pitbulls are very active.
Vets also advise dog owners to try and include grains in Pitbull's diet to prevent the incidence of heart disease. Choose healthier grains such as oats and barley.
If your Pitbull shows food allergies, take them to a vet for testing. If they are allergic to a single source of protein, you can work your way around it.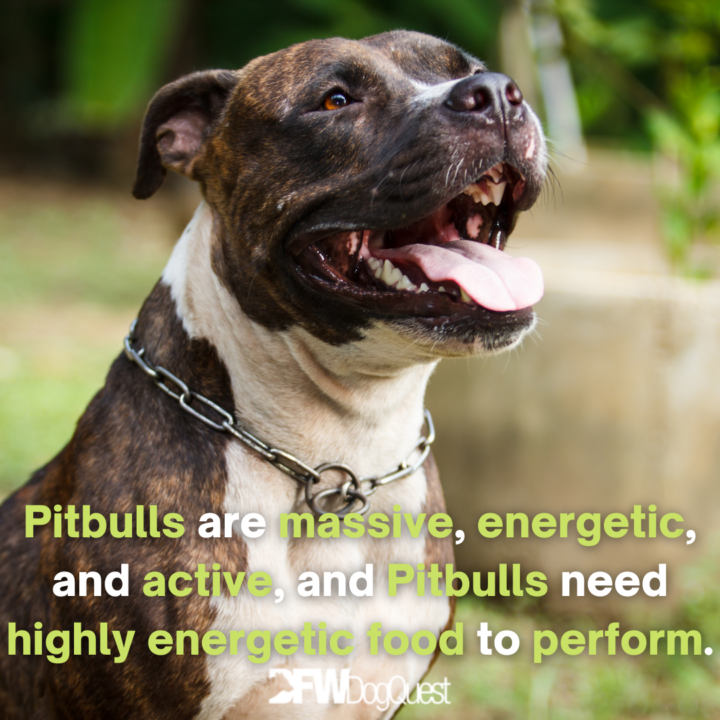 About the Best Dog Food for Pitbulls FAQs
Do Pitbulls like wet, dry, homemade, or raw food?
The kind of food you decide to feed your Pitbull depends on its lifestyle. However, vets and experts advise you to just go with kibbles. Kibbles are very convenient for the owner to store and serve, plus they help keep the dog's teeth clean.
If you have a picky eater, you can give them wet dog food for Pitbulls. However, wet food is easily digestible and can put your Pitbull at risk of being overweight. For high-performance Pitbulls, wet dog food for Pitbulls is a great way to achieve fat and protein intake.
For incredibly picky dogs, go with a raw diet. However, some nutritionists argue that this is not the best way since the Pitbull gets an imbalanced diet. Furthermore, raw meat can carry dangerous pests or be contaminated, posing a danger to you and the pet. Fortunately, You can always go with home-cooked dog food for Pitbulls.
 What are the nutritional requirements of a Pitbull?
Pitbulls are naturally huge animals that require a high protein and fat content to support their high performance. However, a pure protein diet is not recommended.
Go for a brand made explicitly for giant dogs due to their high-calorie intake. They also need nutrients to help joint health due to their hefty weight and activity.
What ingredients must be included in dog food for Pitbulls?
Vitamin E: you can find this vitamin in most flaxseed and vegetable oils. Nuts are also rich in vitamin E but are not healthy for your dog. Flaxseed is a popular ingredient in dog food for Pitbulls; therefore, be on the lookout for it.
Calcium: it is crucial to keep your Pitbull bones and muscles healthy. Calcium is a must-have in your Pitbulls diet to support strong bones, teeth, and eyes. Most brands add calcium to dog food through salmon, lentils, and spinach, and a lack of calcium can make your dog's bones easily break.
Proteins: proteins are necessary for body growth and development. Pitbulls need a lot of proteins when they are growing up. You can find proteins in many types of meat and from dairy and poultry products.
Carbohydrates: since a Pitbull is highly active, it requires a lot of calories daily to sustain its energy. Manufacturers add sweet potatoes and Irish potatoes to dog food to add calories to the meal.
Choline: choline helps improve muscle function. It occurs in organ meats and veggies such as cauliflower.
Your Pitbulls' stool will tell you if the dog's diet is good for him. Inadequate nutrition will make your dog experience diarrhea or constipation, and an unhealthy coat is also a good indicator.
Is a grain-free diet the best for Pitbulls?
If your Pitbull shows no sign of food allergies or a sensitive stomach, it would be best to include grains in their diet. However, grain-free diets tend to be more expensive than grain-inclusive dog food for Pitbulls.
Grains help the Pitbull be full for longer. They also provide the digestible fiber that helps ease digestion and improve stool.
In recent research, vets say that a grain-free diet is highly associated with heart disease in dogs. Therefore, you might spend a lot on medical bills in the long run.
The bottom line is every dog is unique; you have to find what works best for your pet and give them precisely that. For example, a dog with malnutrition is likely to fall sick easily and won't live up to its full potential.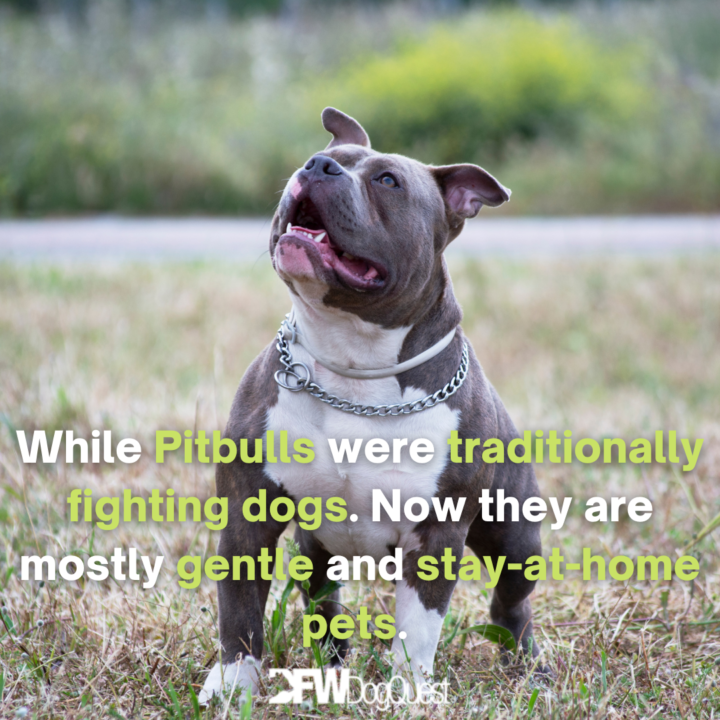 Key Takeaways: What Is the Best Dog Food for Pitbulls?
Pitbulls are large breeds that require an intensive feeding plan. Therefore, the brands we have recommended are the top-rated ones for Pitbulls. We analyzed many brands and filtered them down based on the buying guide given. All the selected brands meet our selection criteria; they have made other customers happy and likely make you happy too.
We recommend the Bully Max High-performance Super Premium dog food for Pitbulls due to its high protein and fat content. It can help you healthily feed your Pitbull and spend less in the long run since it satisfies the Pitbull for longer.
If you don't find the product you have in mind in our list, go through the buying guide to see the factors to consider before buying any dog food for Pitbulls.