As dog owners, many of us know what Greenies are. You see them at almost every pet store, but are greenies safe for dogs, despite being promoted as dental care treats?
These oddly shaped dental treats have come under many negative reviews from pet owners who cited Greenies as a dangerous treat that can cause death to your pets and at any cost shouldn't be fed to pets.
Greenies are dental care in form of treats for your pet dog or cat, to help prevent plaque and tartar buildup on their teeth. Besides helping the teeth, it is also promoted to help your pet's joints.
Made in usually four to six different sizes, the different sizes suit dogs of different sizes with their respective bite forces.
The unique texture of Greenies Dog Chews cleans down to the gumline to fight plaque and tartar and freshen bad dog breath. Greenies Treats for Dogs are veterinarian recommended and VOHC accepted (Veterinary Oral Health Council)
What Are Greenies Really Made Of?
Greenies are made of digestible matter like processed wheat gluten and wheat, infused with some flavoring, edible fatty acid, and chlorophyll.
Green-colored feces from your pets after taking greenies are just color from the chlorophyll. It's not life-threatening.
They are made hard and chew-able, so your pet's teeth and gums get cleaned through the action of them chewing down the treat.
Greenies Ingredients and Nutritional Info:
Wheat Flour
Wheat Gluten
Glycerin
Gelatin
Oat Fiber
Water
Lecithin
Natural Poultry Flavor
Minerals in Greenies
Dicalcium Phosphate
Potassium Chloride
Calcium Carbonate
Magnesium Amino Acid Chelate
Zinc Amino Acid Chelate
Iron Amino Acid Chelate
Copper Amino Acid Chelate
Manganese Amino Acid Chelate
Selenium, Potassium Iodide
Vitamins in Greenies
Dl-Alpha Tocopherol Acetate [Source Of Vitamin E]
Vitamin B12 Supplement
D-Calcium Pantothenate [Vitamin B5]
Niacin Supplement
Vitamin A Supplement
Riboflavin Supplement [Vitamin B2]
Vitamin D3 Supplement
Biotin
Pyridoxine Hydrochloride [Vitamin B6]
Thiamine Mononitrate [Vitamin B1]
Folic Acid
Other Ingredients
Dried Apple Pomace
Choline Chloride
Fruit Juice Color
Turmeric Color
Can Greenies Cause Pet Death?
No!
Consumers and veterinarians alike have negative reviews on Greenies. This isn't surprising, as there have been many cases where dogs and cats had to undergo surgery after taking Greenies.
A CNN report back in 2006 stated that 13 dogs have died after being fed with Greenies. That sounds like a serious case, but if you consider that over 350 million greenies were sold annually even back in 2006, the number of cases seems pretty low.
But are other types of treats alright while it's just Greenies being the dangerous dog snack?
Not so.
The Real Dangers Of Dog Treats
Like Greenies, other pet treats also pose the same level of danger to your pets.
Every treat that requires chewing can actually cause blockage, stomach indigestion, or even choking. This is even more severe if your pets are the type that gobbles down their food.
We aren't supposed to feed bones to our dogs, yet many do it. Eating bones or eating too much rawhide causes them to get stomach upset or to get their intestines stuck with all these not properly chewed foods.
In conclusion, if your dog or cat is the kind that gobbles and swallows their food whole, it's not recommended that you feed it with Greenies or even other types of chew treats
Greenies Aren't For Every Pet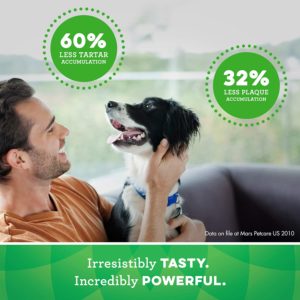 Observe your pet's eating habits. If it gobbles its food, don't feed it with large greenies. You might want to go for the little greenies bits that are made small on purpose for dogs who gobbles.
Greenies shouldn't be fed to puppies below 6 months old or dogs that weigh below 5 pounds.
Get the correct greenies size for your dog, as mentioned on the package. Never try to break the Greenies into half just to save some bucks on your pet treats.
Also, never overfeed your dog with too many Greenies. I've seen pet owners who feed their dogs with dog treats, just to get them to keep quiet. Feed only one treat every 2 to 3 days.
It's About Observing And Understanding Your Pet
Whether to feed your pet with Greenies or not depends on your pet's attitude when it comes to eating treats.
Make sure you pay attention to the potential dental problems of your dog.
There is nothing harmful in the ingredients used to make Greenies, but rather the way your pet eats and swallows these green treats.
Do you feed Greenies to your dog? Comment below.