Saturday, June 25,
2016

at 2pm

The Agility Course Test (ACT) is an entry-level agility event to introduce beginning dogs and handlers to the sport of agility and the AKC agility program. Dogs may be entered at any of the following jump height divisions: 4, 8, 12, 16, 20, or 24 inches. There is no Regular or Preferred distinction in the ACT program. Measurement and/or jump height card is not required to enter an ACT event.

If you want to start with a free dog training course then you can start right now!

Entry Fee(s):          $15 first run / $5 each additional run for the same dog

Classes Offered:     ACT 1 and ACT 2 (Two Rounds of Each)
Entry Limit:            100 total runs per day
Entry Method(s):   First Received (mail and hand-delivered) Opening Date: June 10, 2016
Closing Date:          June 23, 2016, 8:00 pm for Pre-­Entries – Day of Entries Will Be Accepted Provided Entry Limit Has Not Been Reached
Building Hours:     2:00 pm – 8:00 pm
ACT Evaluator:      Michelle del Carpio – Corinth, TX

Check-In/Volunteer Sign Up Will Begin at 2:00 pm Briefing/Walkthroughs Will Begin at 3:00 pm *

* Plan on arriving no later than 2:30 pm so you have time to exercise your dog, set up your crate and be in the ring for the briefing at 3:00.
Running Order:   
ACT 1 – Round 1   4, 8, 12, 16, 20, 24
ACT 1 – Round 2     4, 8, 12, 16, 20, 24
ACT 2 – Round 1   4, 8, 12, 16, 20, 24
ACT 2 – Round 2     4, 8, 12, 16, 20, 24
Entries for the ACT 2 tests will be accepted between the ACT 1 and ACT 2 tests if the entry limit has not been reached.
Make checks payable to: DFW Dog Quest
Mail or Hand Deliver Entries and Payment to: DFW Dog Quest, 1565 West Main Street Suite 460, Lewisville, TX 75067
For more information, email: DFW Dog Quest at [email protected]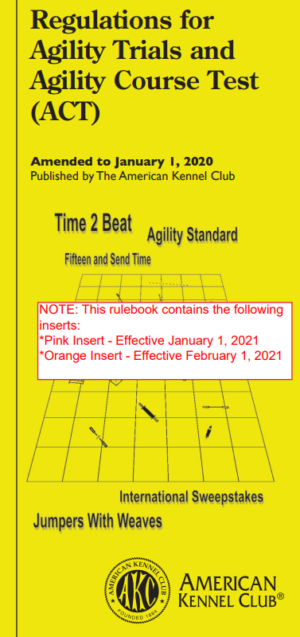 All dogs must be on a lead or securely crated when not in the ring. Bring a crate with you so your dog has a place to relax while you walk the course. Bring a copy of your AKC registration if you have one. AKC registration is required to receive the ACT 1 and ACT 2 titles but is not required to participate in the event. Qualifying certificates will be awarded.
All applicable regulations in Regulations for Agility Trials will govern the conduct of ACT events. They will apply to any person and dog entered. For more information, see: http://images.akc.org/pdf/rulebooks/REAGIL.pdf
All dogs fifteen (15) months of age or older may enter provided they have not earned any AKC Agility Titles. Dogs must be physically sound as described in Chapter 1, Section 3, Paragraph 7 of the Regulations for Agility Trials. In order to acquire the title certificate and have the title added to a dog's record, the dog must be registered/listed with the AKC. Canine Partner applications may be accepted at the test by the judge/evaluator and submitted with test results. Dogs that are not AKC registered/listed may participate and their performance will be recorded by the AKC under a temporary recording number. This temporary recording number will be e-­mailed to the owner and must be used when entering subsequent ACT events and when the owner registers/lists the dog. Note: Temporary recording numbers may only be used to enter ACT events.
Premium and Entry Form: Calendar of events
If you want to start with a free dog training course then you can start right now!
Dog Treadmill makes your dog energetic and healthy. Check out treadmills for dogs and get the best treadmill for your buddy's everyday exercise.