As a pet owner, you will want to keep your pet happy and healthy. This task is one of the most priorities. You should trim his nail regularly. Some pet owners take their dog to professional groomers and ask them to trim their dog's nails. But, some pet owners want to do this themselves at home. It's time to think about the right tools.
Let's check out this post to learn how to choose the best dog nail clippers. We will give you some essential tips on choosing the best nail clippers for large dogs.
The Best Dog Nail Clippers for Large Dogs
Epica Professional Pet Nail Clippers
This clipper is our first best clippers for large dogs. It's made of high-quality stainless steel. It comes with the super-sharp blades. They allow you easily to cut through the nails for a painless trim. Also, you can quickly do this task. It ensures to give pet owners clean cuts. It is designed to fit your fingers because of the handles.
With this model, your dog's nails may be trimmed quickly with confidence due to the attached quick guard. If you want to put them away, remember to let them lock into a closed place. This helps to avoid cutting accidentally. Also, this helps to protect the trimming blades from other objects.
These dog clippers come in two different sizes. They are suitable for dogs of all sizes from small to large sizes. Make sure you clip your dog's nails safely and effectively.
Besides pros, these models also have cons. For examples, they make a loud noise when clipping. So, they are not great options for nervous dogs.
Millers Forge Nail Clippers
This brand is one of the most famous names in grooming supplies for pets. These models are durable products. They come with super sharp blades made of stainless steel. So, they can work well on your dog, even for the toughest nails. These dog clippers are not designed with a quick guard. So, they are ideal for those who feel comfortable with trimming nails.
It offers owners a locking mechanism. So, you can secure its blades in a closed place when you want to store it.
These models only come in 1 size. They are greatly used for dogs that are 40 lbs and up. Many dog owners love this product because it can give a quick and clean cut. However, these models are designed with thick blades that sometimes don't offer precision clipping.
Resco Original Deluxe Clippers
This product is the first guillotine-style clippers listed here. It has become one of the top products on the market since 1937. It allows you to cut through nails with ease every time thanks to its steel blades. You can easily replace its blades whenever these blades become dull. So, you won't have to pay more money for a new set of clippers.
The clipper comes with no quick guard. However, the clipper is available in different sizes. So, you can use it for both small and large dog sizes. You even can use this clipper for dogs that are up to 50 lbs or more. In addition, this clipper offers owners a lifetime warranty.
However, sometimes, it may be hard to replace its blades. Because of no safety guard, you need to be more cautious.
Safari Professional Nail Trimmer
These trimmers come with stainless steel blades. They promise to provide you with a sharp and effective trim. These blades can be able to handle even the toughest and thickest nails. It ensures to give a clean cut every time.
The clipper comes with the large rubber-coated handles for added comfort. It allows you to use on multiple dogs at a time.
There is a quick guard. It helps to avoid accidentally cutting into the quick. Therefore, it's a good choice for owners who are nervous or those who start trimming nails for the first time. You can use this model on most dogs because of its standard size.
In addition, the product comes with the locking mechanism that allows you to lock the blades in closed place. However, this clipper can get dull faster compared to many other dog nail clippers.
GoPet Nails Clippers
This product is made of 3.5mm thick stainless steel. So, they provide you with clean cuts. This material can stay sharp for years, even when you use it regularly. However, giant breeds require a bit more heavy duty. Sure, you will feel comfortable when using because of the large plastic handles. They offer extra leverage, so you can cut your dog's nail easier.
With this clipper, you needn't worry cutting too much at once. Like products mentioned previously, it comes with a locking mechanism. So, you can store the blades in a closed place.
The clippers are available in 2 different sizes. So, you can use them on dogs of any sizes. Moreover, it can be used on cats with a small size. Plus, it comes with a separate nail file.
However, this unit may not sharp enough to handle giant breeds with tough nails. Moreover, its quick guard is too deep.
How to Choose the Right Nail Clippers
You know, there are many different options of dog nail clippers on the market these days. So, it may be overwhelming to choose the right one. To make you choose easier, pay attention to some of the most important factors for choosing your dog's nail clippers
Types of Nail Clippers
Guillotine Clippers
This type is ideal for medium-sized dogs. These clippers come with a cutting blade that allows you to move up to slice off your dog's nail. These products are actually suitable for most dog owners. Some professionals only recommend highly this type for those who are experienced with trimming dog nails. It's important to clip perpendicular to the nail.
Scissor Clippers
This type can work well on large dogs. In fact, these products are the safest as well as most effective trimming tools. Any pet owner can easily use this type. They are great for the average dog owners.
Most scissor clippers come with a quick guard that helps to prevent your dog from accidentally clipping.
Things to Look For
Trimming your dog's nails shouldn't take too much of your time. To do this, you need to get the right tool for the job. For the most part, it's quite easy to use dog nail clippers. However, you need to take your time to choose a dog nail clipper. If you use the wrong tool, it can injure your dog. Here are some features to look for when choosing a dog nail clipper:
Handles
The first things any owner needs to consider are the handles. You can get full control over the clipper thanks to the proper handles. Also, they help to reduce the risks of hurting your furry friend when clipping his nails. In addition, they allow you to adjust your dog's nails to any length while you needn't push too hard.
Design
Nowadays, the dog nail clippers come in a variety of design. However, the better clippers normally require more maintenance. That's why you may get problems storing them after use. For large dogs, you need bigger clippers. However, these machines are uncomfortable to use. Also, it's hard to clean them.
Construction
The nail clippers you choose have to be sturdy and durable. When it comes to this respect, most of dog nail clippers today are made of sturdy materials such as hard plastic and stainless steel. Choose ones made of stainless steel. They won't slide off over time.
Blade Quality
The quality is the most important feature to consider when it comes to choosing nail clippers for dogs. You should buy clippers with blades made of high-quality stainless steel. These clippers can be able to stay sharp for a long time. Also, they are rust-free for trimming safely.
On the contrary, if you choose ones that easily dull, it's easy to get crushing the nails.
Comfort
It's important to look for something with a comfortable handle to hold with ease. Find ones with an anti-slip grip or a rubberized grip.
In general, you will get more leverage with longer handles. They can help to cut through your dog's nail easily.
Safety Features
Some scissor clippers are designed with a quick guard. This allows pet owners to prevent overtiring their dog's nails. Some customers love the quick guard, while some others don't because they think they can't trim accurately due to the quick guard.
Tips for Trimming Your Dog's Nails
Create a Positive Experience
If possible, it's best to get your dog used to nail trimming from a young age. This is a good idea when it comes to making a routine experience than a frightening one. If you have a nervous dog, approach the trimming slowly.
Your dog needs to get used to clippers before you introduce clippers at all.
Introduce clippers to your furry friend in a closed place, it's best to keep them next to your pet's feet and nails.
Give your dog a treat as a manner of praising him.
It's important to repeat this several times before you stop it.
Note about Quick Guard
Although quick guards are helpful, they are not foolproof. If you want to avoid clipping the quick, it's important to familiarize with the position your dog's nails are in. The guard should be used as a guide. However, you need to always double check before clipping.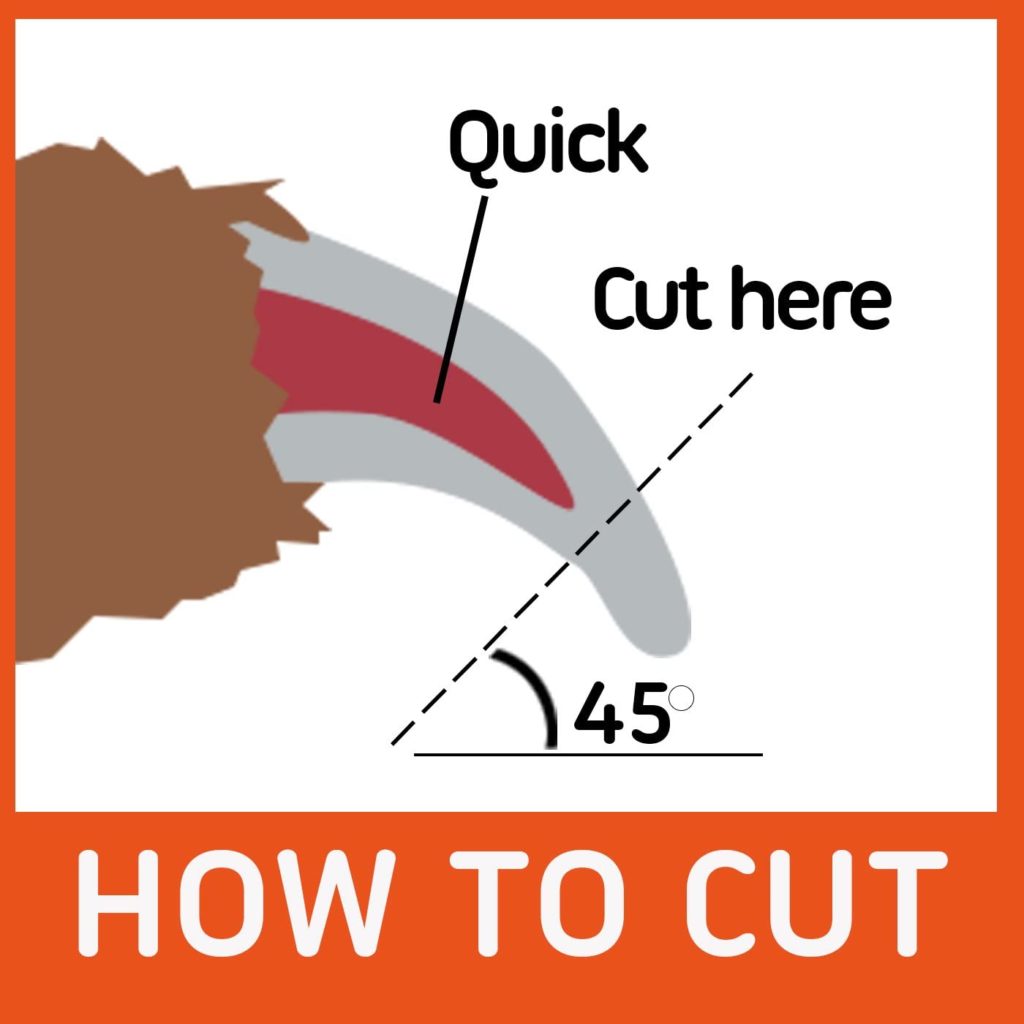 What to Do When Cutting Your dog's Nails too Short
Sometimes, you may cut your pet's nails too short. Then, you will hope that there are some blood. Cutting into the quick leads to the bleeding. In order to stop them quickly, use styptic powder on your dog's nails. If there is no styptic powder, you can see bleeding for a bit. However, don't too worry. Sure, it will disappear eventually.
Ignoring Dog Nail Trimming
Many dog owners ignore the process of trimming their dog's nails because of different reasons. However, they don't know that this task is really important when it comes to taking care of a dog. If you let your dog's nail grow too long, it can cause injuries to him when participating in the slightest physical activity. Then, your dog will get pain for a big time.
Conclusion
When mentioning to your beloved pooch, it's important to pay attention to health and safety. These issues should be considered as a top priority. After all the products we listed above, our most favourite choice is the Epica Professional Nail Clippers. Thanks to their features we've just introduced in the previous part, this device can be used greatly for both small and large dogs. It ensures to give you a comfortable experience without stress.